Centralized
Compliance for a Decentralized World
Making anti-money laundering compliance cheaper, faster, better, and fairer
About
Our mission is to create a market infrastructure where our digital identities remain our own. Mutualizing compliance to benefit everyone in a way that is secure and promotes ethical data use.
Fully managed due diligence processes.
Inherent data security and transparency.
Significant cost savings and efficiencies.
If you conduct customer due diligence:
As a business that is required to conduct due diligence on your customers, you have no doubt faced numerous challenges in the form of:
Long onboarding times leading to customer attrition
Onerous and time-consuming investigation processes
Data management difficulties
Costs and inefficiencies of using multiple tech providers
High operational and resourcing burdens
Keeping up to date with the ever-changing regulatory landscape
Lack of regulatory clarity and consistency
While there are thousands of e-KYC tools available, these do not provide everything you need. This is because they are just that; tools not actual solutions.
idclear is a fully-managed service in-housing the entire due diligence lifecycle within one ecosystem.
idclear enables businesses to onboard customers – from individuals to complex legal entities – through a single platform, utilizing our proprietary risk scoring methodology.
Customer profiles are verified and monitored by idclear, allowing all of our clients to benefit from mutualized reduction in onboarding times and compliance costs.
Our infrastructure provides best-in-class technology and data management, accessible via single integration and through a single interface. 
Our AML experts handle all investigations and alerts, ensuring compliance from day one and establishing data sets to train AI models and drive further automation.
We monitor the regulatory horizon and ensure our processes are always in line with applicable legislation and guidance – world-wide.
Our proprietary data platform has been carefully designed to make it easy to manage customer data in compliance with all data protection laws.
We mutualize due diligence processes across our client base, only conducting checks where none have yet been conducted or where additional checks are required. This data minimization approach significantly reduces cost and onboarding times for all participants across the entire idclear ecosystem.
Sensitive personal data and documentation is sent to each third party separately for verification.
Personal data is sent only to idclear, where it is verified and then shared as needed.
Our clients benefit from:
Lower costs and ease of compliance.
Less customer attrition.
Reduced operational burdens.
Decreased risks and improved records.
Evolving Markets
idclear is the perfect solution for the constantly evolving financial markets, able to service clients from CeFi to DeFi, and everything in between. We have the knowledge, expertise and experience to deliver true confidence, compliance and unprecedented efficiency.
If you undergo due diligence:
Whether as an individual or as a business, you will no doubt have been asked to verify your identity by providing sensitive data and documents. Often these requests come time and time again as each provider you need to onboard with conducts identical checks. You then receive repeated requests for more information from those you have ongoing business relationships with.
What if there was a way to minimise this hassle?
idclear allows you to securely store and share sensitive information and documents using a single interface. Your data is fully encrypted, only ever shared or visible to anyone else with your explicit permission. We provide a portal where you can see what data you have shared, when and with whom. For free.
As an idclear end-user, you benefit from:
Better and faster onboarding experiences.
Secure self-managed custody of your sensitive data.
Fewer requests for the same information.
Visibility and control over data sharing permissions.
Product
The idclear front-end interface provides a digital onboarding module, optimised for both desktop and mobile. Our onboarding widget supports automated verification and screening, with dynamic and intelligent proprietary real-time risk scoring. Highly secure idclear portals allow businesses and their customers to access and manage due diligence information, documents and communications.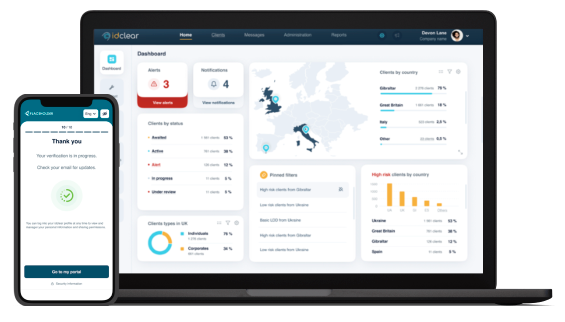 DeFi
idclear is the only compliance solution for DeFi that meets the FATF recommendations without introducing conflicts of interest to this new market structure.